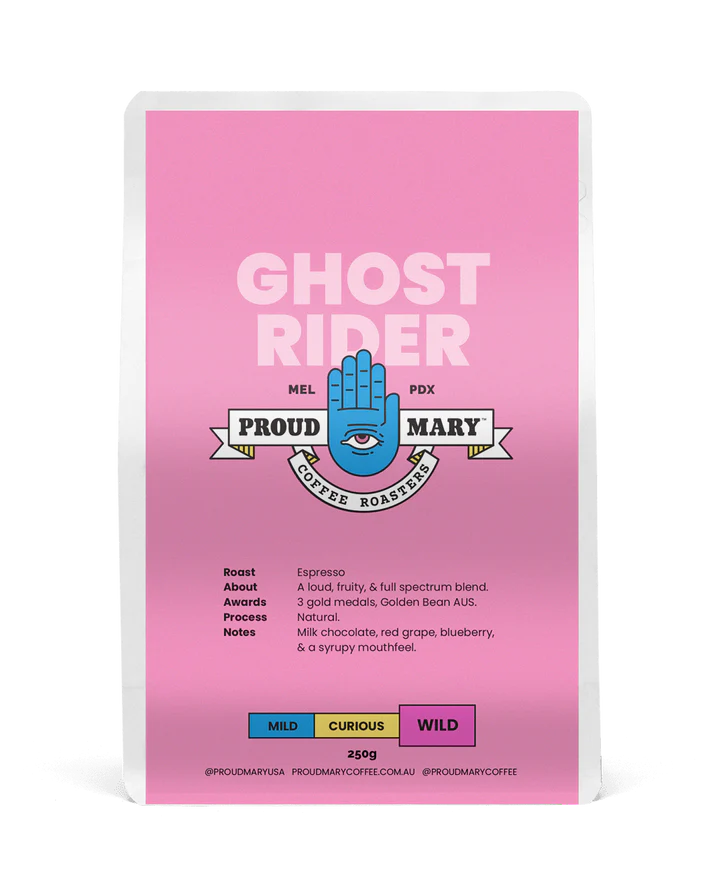 Tasting Notes: Milk chocolate, red grape, blueberry, & syrupy
The Ghost Rider blend by Proud Mary is designed to cut through milk and create a sweet and fruity latte or espresso. Its flavour profile is exciting and easy to brew – a coffee for the adventurous!
Ghost Rider is comprised of natural processed coffees from South America and Africa. Currently it is comprised of coffee from Brazil – brings the base notes of milk chocolate and a syrupy mouthfeel, and Ethiopia brings the high fruity notes of red grape and blueberry. This fine recipe won the Golden Bean Award in Australia in 2013 and then went on to win three more gold medals back-to-back!
At Proud Mary, we utilise only fresh seasonal components direct from our amazing producer partnerships at origin. Many hands have helped make this blend special, and by drinking Ghost Rider, you are supporting a sustainable supply chain and our direct relationships with producers from Brazil and Ethiopia.
Grind Type: Whole Beans, Weight: 1 kg
$88.00 — available on subscription