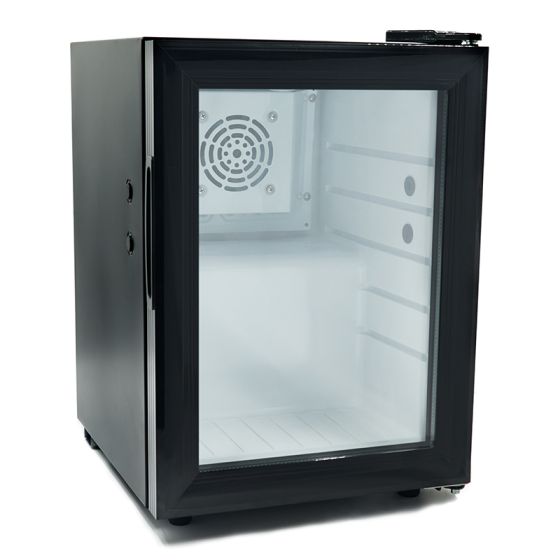 This compact 21 litre fridge is ideally sized to keep milk chilled next to your coffee equipment, ensuring an even temperature throughout.
The fridge has been thoughtfully developed for the coffee industry with 4 factory prepared holes either side of the fridge to suit both 6mm and 8mm milk line hoses. Each of the holes comes sealed with removeable plugs so you can choose the correct point of entry at any stage.
The fridge configuration can accomadate 2 x 2 litre, 1 x 3 litre milk containers, or 3 x 1 litre long life cartons
Specifications:
– Width: 330mm
– Depth: 390mm
– Height: 514mm
– Interior: 240mm(W) x 120mm(D) x 360mm(H)
– Colour: Matte Black
Please note: the fridge door is no longer reversible, this is due to the machine-wound spring to assist in the easy close door.
Features:
– Solid construction ensuring long life for a busy cafe
– Twin fan cooling for efficient and stable temperature control
– 2-6c in ambient tested 38c environment
– Interior LED light
– Fully adjustable analogue temperature control
– Dolby: 42Db, making it quieter than many other glass door fridges
– Adjustable feet keeps the refrigerator stable on uneven surfaces
– Self-closing, adjustable double glazed door for better insulation