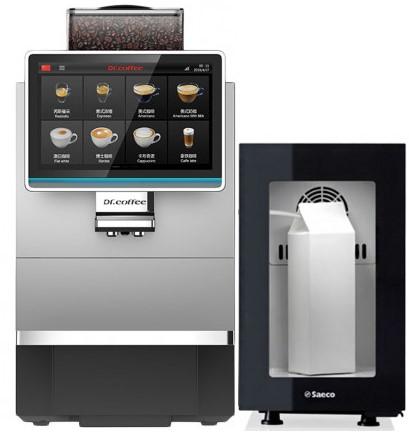 Dr Coffee Coffee Break+ Milk Fridge – All Year Special Offer…
+ Coffee Break machine + 21 L Milk Fridge
8-litre water tank.
+ 1 kg Locally beans
+ 1 L  Milk cleaning
+1×60 Cleaning Tablets
+ 12-month parts and labour warranty (back to base)
+ Free shipping Australia wide
Specifications:
The coffee machine is designed to make all your coffee needs convenient and easy, with one-touch options for cappuccino, latte, espresso, and long coffee beverages, all without the need to move your cup. The patented brew unit system is equipped with an auto-clean function for easy maintenance, and the built-in milk frother unit also has an auto-clean function for added convenience. The machine also boasts a large 1 Kg capacity for coffee beans and an auto fill-in water system with a hose to connect to a water barrel.With the ability to produce 80-120 cups of barista-quality coffee per hour, this machine is perfect for high-volume use. It uses only fresh milk and fresh coffee beans, making it fully automatic and easy to use. The compact design and large-capacity water and bean containers make it easy to use and maintain. The wide graphics display and user-friendly interface allows you to make your selections with ease, and the machine takes care of the rest.